Hailey Baldwin-turned-Bieber has quickly become my style icon. This is basically pajamas with gold hoops. The quarantine pick-me-up we all need.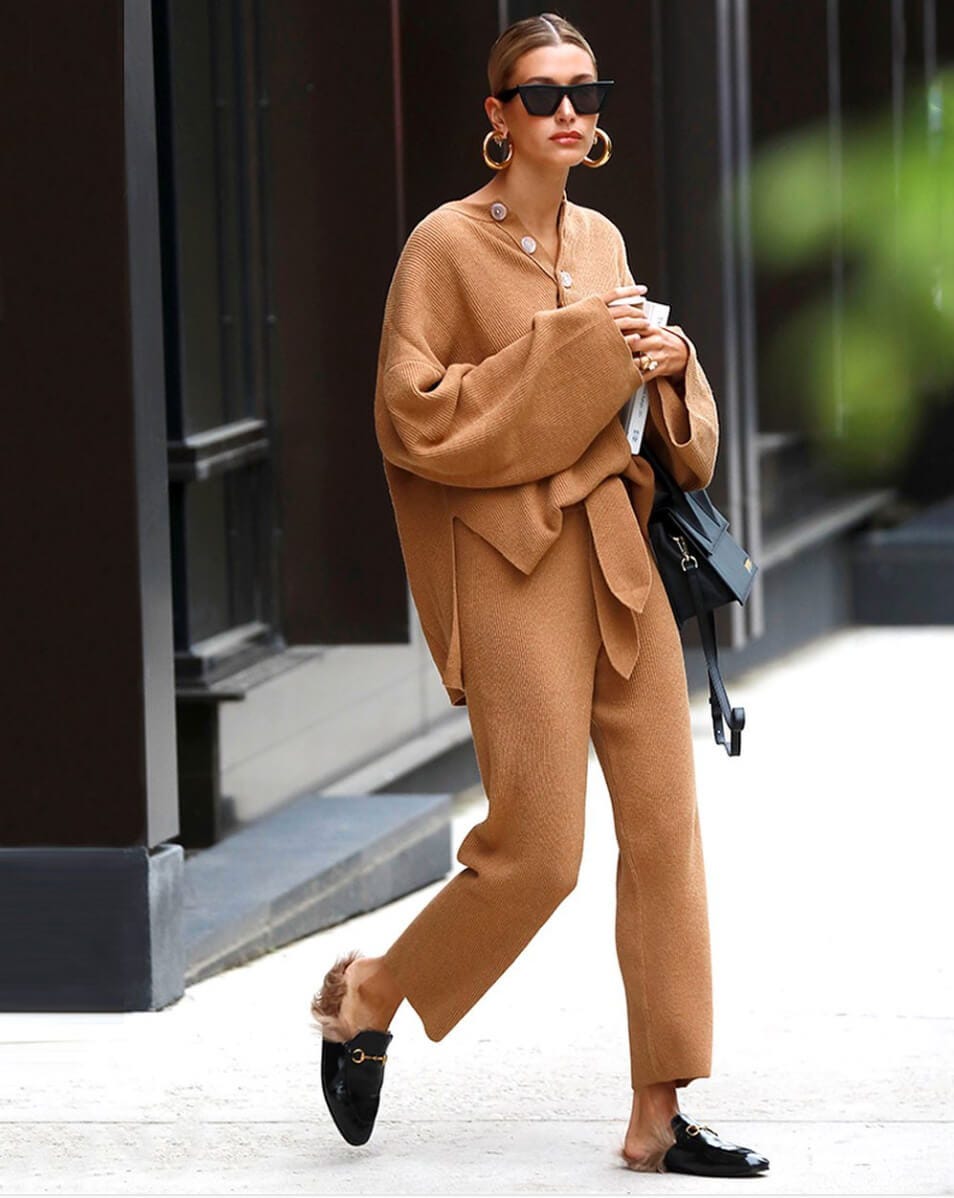 Tara Schuster's modern memoir, Buy Yourself The F*cking Lillies, has a chapter titled: "I Get Ready Like Cleopatra — Greet The Day Like The Sovereign Ruler You Are," and frankly, I couldn't get enough of it.
I think because we are in quarantine, we need to outfit ourselves at least one level up from sweatpants. With zero contact from the outside world — aside from the second best thing — Zoom/FaceTime — we need the confidence booster all the more to power through the day in an energetic and productive manner.
And I don't know about you, but I simply cannot do that in pajamas. Mostly and probably because my pajamas are huge t-shirts and boxer shorts. I need new pajamas. But nonetheless, wearing sleepwear will make us feel and behave sleepily, just like wearing a blazer and heels makes us feel important and in-charge.
---
I'm going to share Tara's getting-ready rituals because they are the best kind of brilliance — simple, yet profound and achievable.
As a preface to her 6 ways to treat yourself like royalty in the morning, she says this:
"Now, in the morning, when I am getting ready for a new day, I take the time to act as if I am a powerful empress: confident, expansive, and enthusiastic about the work of the upcoming day."
Make yourself a witchy brew: She talks about how she doesn't just make coffee — she makes a potion, adding in some exotic herb. Strong coffee is enough for me, but I'm not against giving a witchy brew a whirl.

Light a fire: A candle in your bathroom, incense in your kitchen, or even just lighting a match then blowing it out. The point is to literally start your day on fire. I kind of love it.

Pump those jams: Now that we aren't rushing around packing lunches and squeezing in a workout and tossing clothes around because we can't find our favorite top, we have time to play music that will set the mood for our day.

Make your face: Minimal makeup, no makeup at all or a face-full of makeup, she means look in the mirror and face yourself before you face the day.

Anoint Thyself: She talks about oils and crystals and intentionally placing perfume on the backs of her ears and neck as a way to smell good, yes, but it also signifies the finishing touch of getting in the right headspace.

Say a prayer: She isn't religious, but maybe you are. I took this more as a positive affirmation to tell yourself each morning — I deserve to be happy, I'm lucky to have so many friends that care about me, I'm choosing today to make progress on my dream. If prayers are more your thing, say an actual prayer. Or take a second to show gratitude to whatever you're feeling thankful for in the moment.
Takeaway
Dress for the occasion, so you can mentally show up for the occasion.
Somewhat related note! If you're looking for a good mental health podcast, I FOUND A GOOD ONE. It's called Therapy Thoughts, by Tiffany Roe. I love this girl. I desperately want to be her best friend.
I haven't been in therapy long enough for it to work (I went here and there in my twenties and then again after I had a baby), but I do think it's necessary to explore for everyone. Like my new friend Tiffany told me yesterday in her "FEEL DEAL HEAL" podcast, "Mental health is not an issue of 'us' against 'them'. We ALL have emotions and feelings that we avoid or suppress — they are just experienced at varying degrees of numbness or severity for each person."
She even has Therapy is Cool hoodies and t-shirts. We need more of Tiffany.
May your Tuesday have some excitement in it! Even if that excitement is only felt during a HITT workout or after your second homemade latte or the brief moment you have to yourself without your children/husband/roommate breathing down your neck, may you feel it and may you own it.
Be you.
XOXO,
Ashley
This is Tiffany