This is Jen Gotch — my new and forever obsession, and inspiration for writing this piece.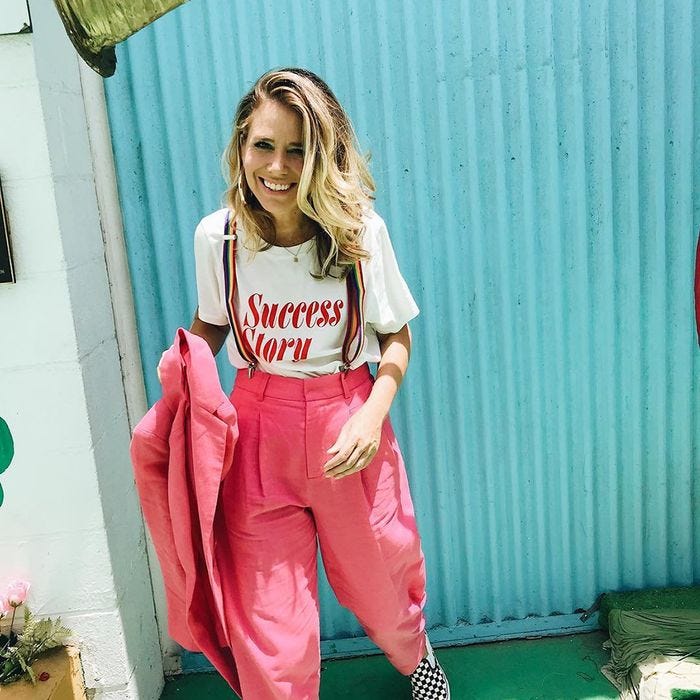 In short, getting dressed matters because doing so makes you feel better. Taking it a step further, getting dressed makes you feel important — like you have a purpose in life.
Even if your only purpose today is showing your child how to trace the letter "U," I guarantee you teach him/her with more enthusiasm, and a more you can do it! attitude while wearing a pair of jeans and oversized sweater instead of baggy sweatpants and your partner's college t-shirt.
Being stuck at home has got me rethinking my loungewear — or lack thereof. We've been living in pajamas for well over two weeks now, and I am officially sick of it.
So, today I put on makeup for a Zoom call and felt infinitely better. I also put on my go-to pair of publicly acceptable leggings in place of my at-home leggings, and again, felt infinitely better.
---
In the wake of this quarantine era, I give you some excellent loungewear looks for some WFH fuel + $50 and under WFH basics + a standout brand I just discovered the other day that I am capital O obsessed with.
This brand, Ban.do, has inspired me to create my own clothing line. Anyone know a good artist/designer? For years, I thought I wanted to have my own boutique, and then I thought I only wanted to be a writer, but now I realize I can do and be both. And now — especially now — I want to create something meaningful and fun that I wholeheartedly resonate with.
I'm confident Jen Gotch (founder of Ban.do) is my exact spirit animal. A writer who founded an amazing clothing brand who is also a huge mental health advocate? If she can do all of that — and do it with purpose — so can I.
If you feel like you're alone (with your thoughts, with what you want to do in your life, in a relationship), I'm telling you there are herds of women who feel exactly the way you do. You just have to find them.
Unrelated note, just for kicks
A few of my son's stuffed animals have the coronavirus. Joey, Cy's beloved monkey he got from the Columbus Zoo, has it "really bad." To protect himself from contracting COVID-19, Cy walks around the house with his swimming goggles on. 4-year-olds. Gotta love em.
Let me know your feelings about my newsletter. If you like it, please do share it. If you want me to talk about something else, email me back. And if you hate it, please do tell me!
Cheers to going after what you want in life, and doing it in style.
XOXO,
Ashley