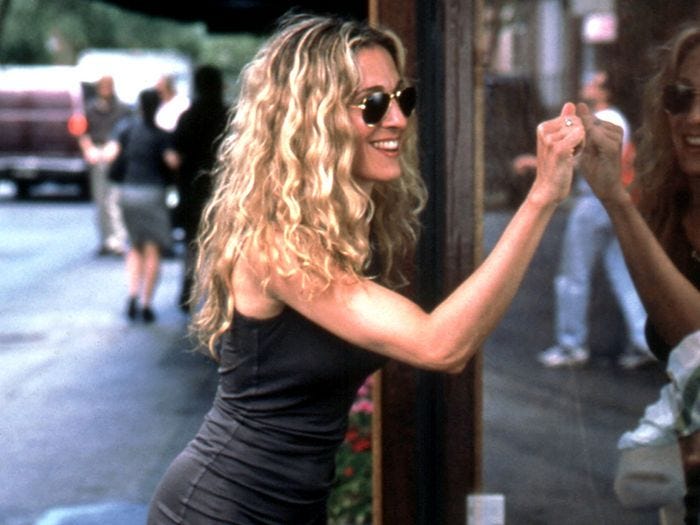 When we we were young, we took great pride in dressing like our heroes. Whether around the house, at school or at a friend's place, we weren't just excited to adorn fairy tale wings, cowboy hats and Cinderella slippers — we were proud.
Children playing dress-up is not all that different from adults emulating looks of celebrities or our stylish friends. We're both dressing like people or characters we admire in an attempt to be more like them. Whether we see bravery, femininity, confidence or happiness in our role models, we dress the way we do to feel a certain way. Or at least we used to.
And it makes perfect sense. When we're feeling down, our heroes give us hope that things will turn out in the end. We feel safe, protected and ready to take on the bad guys upon witnessing their heroic attempts. Whether that's portrayed in slaying a dragon, starting a business or finding ways to embrace motherhood.
---
Cy's dress-up play is a little more sophisticated than superhero capes and eye patches. Or at least it has been lately. For the past 2 weeks straight, he has dressed exactly like Ian from Onward — skinny jeans (very tight), a button down shirt, hipster sneakers, a fitted hoodie and a wristwatch.
But it isn't the outfit that he's drawn to. It's Ian's personality. It's his growing bond with his brother and his willingness to explore that my son is attracted to.
And it got me thinking…
When did we stop dressing like our heroes? Was it during our teenage years when all we wanted was to look like everybody else? Was it when we became "real adults" thrust into the "real world" of slacks and blouses and briefcases?
I started to look inward for the answer. The person I have consistently looked up to — style wise and far beyond — is Carrie Bradshaw. For some reason it sounds juvenile but it's the truth. People who know me well already know this. We're both writers, we both love fashion, and we both love NYC — or moreover, the idea of living out a thrilling city life abundant with lavish events, rooftop parties and soulmate friendships. What is not to love about that?
But why has my admiration for her never wavered? From watching Sex and The City as a 16-year-old eager to move to NYC to the nurturing mom I am now, I still have never gotten sick of her (or the show). My fondness for her has only grown, if anything.
Then it hit me: Carrie is the ideal embodiment for every woman wanting to hang on to her independence.
Wearing slinky dresses, Manolo Blahniks and tube tops might not put me into Carrie Bradshaw's exact New York City life. But it will make me feel like the parts of her that I love — a great writer, unapologetic in her mis-matched outfits, a good friend, and above all else, a vibrant reminder that life is about living.
Takeaway Tip
Play dress-up with your kids today and see what they come up with! I'm all about self-experimentation — especially when it comes to outfitting ourselves. So do let me know what they choose so I can do what I do best — overanalyze the deeper meaning.
Unrelated But Relevant Note
It feels odd to not address COVID-19 in at least one sentence as I write these essays. Mostly because it's all I can think about, and also because it just seems wrong not to say something.
Last week I was particularly excited about life. This week I'm feeling rather melancholy. The unpredictability of it all — my mood included — is overwhelming and suffocating.
In a New York Times article released this morning, illustrator/writer Emily Flake talks about how her daily to-dos pre-quarantine made up her identity, and now that that list has vanished, she doesn't know who she is without it.
At the heartbreaking prompt of her 7-year-old daughter asking, "Why are we even alive?" she tells the reader:
"My daughter is saying out loud the questions that everyday life helps us forget. This quarantine feels like a time of reckoning, forcing us to look at ourselves as we really are. Maybe whatever world we build after this is over will be more honest about that reality; but I don't know if that's something to be hoped for, or deeply feared."
I think we're all feeling like that right now. We tie so much of our identity to our jobs and who we are to other people, that we forget who we are.
Do we rethink what makes us us once this is over? Or do we jump right back into what felt stable out of fear of feeling anything but bad?
Thank you for reading.
Be you.
XOXO,
Ashley