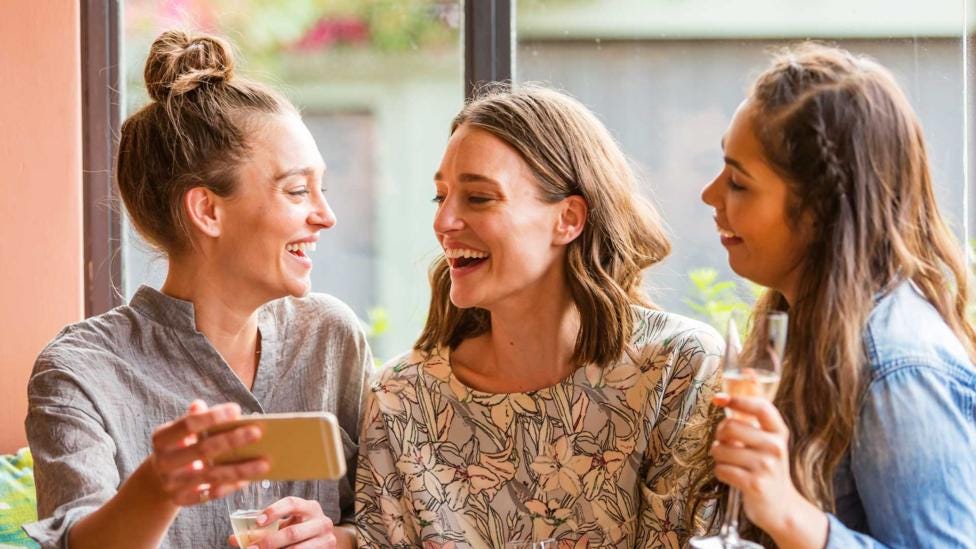 Happy prelude to the weekend. What are everyone's plans? Having their coffee in the living room instead of the kitchen? Going to an open park to have a socially-distanced picnic?
---
I woke up today with a massive, throbbing headache. I still have it as I'm typing this. Do I have the coronavirus? Why am I sneezing? Is it springtime allergies or COVID-19? Whatever the cause, it's pissing me off. And when I'm feeling annoyed, I know I can count on my signature combination to make me feel better: oat milk latte + writing in a quiet room + spin class.
While this signature feel-better combo sustains the high (temporarily) for personal reasons, it loses its luster once my brain realizes something is missing: Human connection.
And it got me thinking…
If we are, in fact, the product of the 5 people we spend the most time with, we need to have our quarantine-mates' backs right now. Without the luxury of meeting up with our girlfriends for happy hour, it's only natural to (1) feel like there is no escape and (2) be on edge.
I came across this post from self-help author/life enthusiast Mark Manson, and it got my gears going about returning to life post pandemic:
"Life is simple. Find 3 things you love…

One to make money

One to do with friends

One to do for yourself"
His overarching point is that people overcomplicate everything. And if we would just find a few things that bring us happiness — and stick to them — we would thoroughly enjoy our lives.
Some people will argue that it isn't that simple, but I disagree. I think it is that simple. It's like I always tell Cy when he's worried about something ridiculous like his ice-cream falling on the ground or not being able to wear his skinny jeans because they're in the washer:
There are 3 things that are important in life. Your family, your friends, and having fun. Everything else is just noise.
At the end of the day, I'm asking myself 3 questions:
What am I doing that makes me feel good?

What am I doing that makes my son feel loved and cared for?

What am I doing to support my man friend?
The challenge is going to be carrying this what's-important-in-life mantra once self-isolation is a thing of the past.
Weekend Thoughts
Here's to looking forward to the day where we can sling our bag over our shoulder, skip merrily out the door, and head downtown to meet friends — or our parents or our siblings or whoever — for a well-deserved martini and overdue catching up on what's been happening the last 3 months or more.
Be you.
XOXO,
Ashley