Mom Outfits, Explained
What makes a mom uniform? Also, you don't have to be a mom to appreciate this post.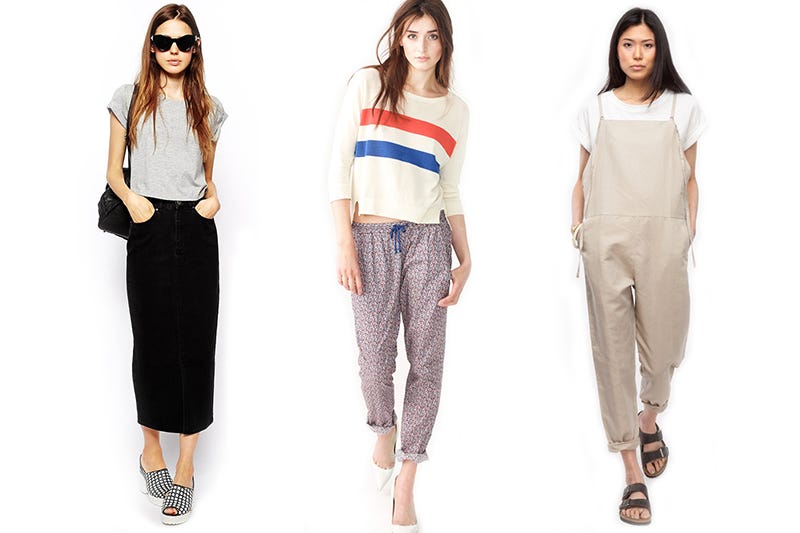 It's Friday! Pop the champagne.
Because lockdown may happen again (Are you there therapist? It's me again), I thought it would be beneficial to share the outfits that allow us moms to keep calm and mom on in the realm of those long (and often terrible) quarantine days.
---
When I hear "mom outfit," I think more sophistication and less cleavage. There's a time and place for side boob, and the grocery store is not one of those places.
Mom outfits serve one purpose: They allow us to go about our days swiftly and productively. Because when we're fulfilling mom duties — like scheduling playdates, making doctor's appointments and trotting to the grocery store — plunging rompers are not going to suit us (or others around us.) We need comfort and we need practical.
Here are 3 outfit ideas for comfort and practicality as it pertains to mom life.
The Baseball Mom Outfit
The baseball mom outfit is a sporty look. Jeans + tee shirt + fashion sneakers + baseball cap. This is a go-to look for summer, but works for all seasons. Swap jeans for denim shorts, jersey shorts, joggers, or leggings for different looks. And add a cool necklace and/or layered bracelets to de-bore the look.
Here are some variations of the baseball mom outfit for style inspiration:
The Yoga Mom Outfit
I don't particularly enjoy the yoga mom outfit, but I know other people do. For me, skintight leggings and sports bars are reserved solely for workouts.
However, the yoga mom outfit is assumedly the best fit for a long day of errands. Obviously great for going on walks with friends, too.
Here are some examples of cool (not basic) yoga mom outfits:
The Traditional Mom Outfit
The traditional mom outfit has been around since the beginning of clothes. Hence the name, traditional! The look is classic, simple, and elegant, and always will be. It is…a white button down shirt + jeans + loafers/sneakers/Birkenstocks/block heels/stilettos.
Any shoe goes, any hat goes, and any hairstyle/makeup combo goes with the traditional mom outfit. It's the most "motherly" of the mom outfits.
Here are some traditional mom looks with a stylish twist:
Mom-Approved Style Tips
When in doubt, add a hat — a baseball cap, a wide brim hat, a sun hat, any hat. Rarely do hats not go with a cool and casual mom outfit. This goes for shoes as well. A fun or unexpected pair of shoes will make any outfit feel fresh and fun.
---
Thank you for reading! I hope this has sparked some outfitting inspiration for your next day of momming.
Be you.
XOXO,
Ashley