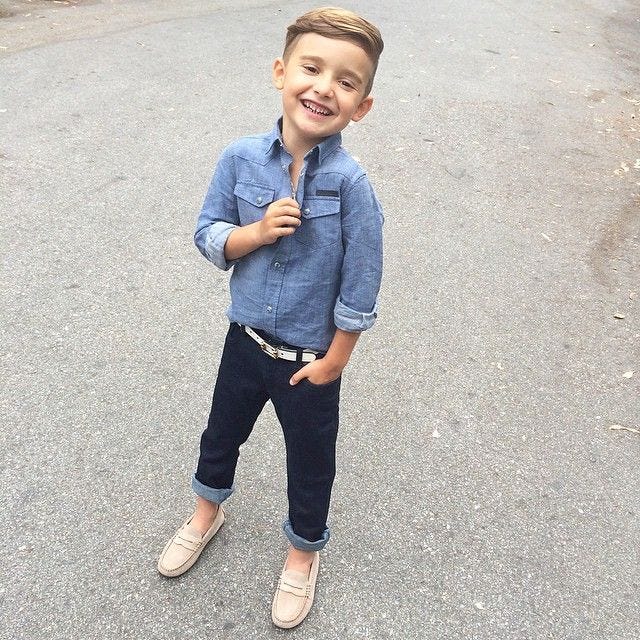 Yesterday, I met a friend for lunch in Greenwich. (Hi Indre). Both she and the fancy Connecticut town are stylish, sophisticated and confident.
I told my 4-year-old son we had to dress a little more dapper than an Under Armour tee and shorts combo, to which he graciously accepted. He came out of his room wearing a white button down shirt (his ring bearer shirt from your wedding, Calli & Brad), skinny jeans and Chuck Taylors.
Perfect.
At the restaurant, he used his utensils instead of his hands, said please and thank you to the waiter without me prompting him to do so, and put his face mask on to go to the bathroom without fussing about it.
He is naturally a well-mannered child, but I couldn't help but notice his politeness being taken to the next level. And it only made sense that this positive behavior was directly linked to his outfit.
Dressing Your Mind Right
As adults, we are behaved better when we're dressed better. We're more professional, more outgoing, and more inclined to happiness and creativity when we are outfitted sharply.
Why would it be any different with kids?
So, just as I have conducted my own style-connected-to-mind experiments in the past (blazer-wearing experiment, a week in hats, a week in heels), I'm going to do the same with Cy and see what happens.
---
Let me know your thoughts, but I think I'm onto something here. New gentleman-in-the-making clothing brand idea? Perhaps!
Happy Thursday. Today I am going on another date with my son. This time, we're headed to the movies instead of the beach. I've had enough sea grass on my body this week.
Thank you for reading!
Be you.
XOXO,
Ashley