How To Master a Full Week of Mom Outfits
What is a mom outfit, and how will it make my life better?
Long live the shirt-dress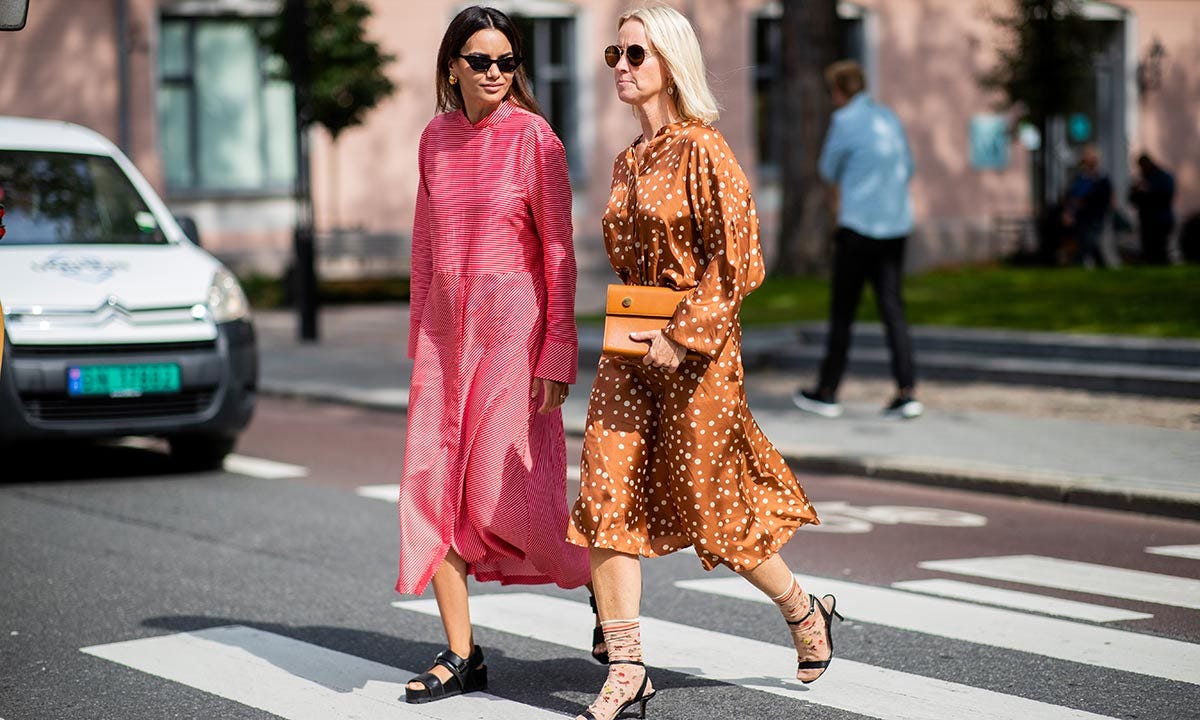 First thing's first. A "mom outfit" is not solely reserved for moms. We call it that as a way to unify motherhood. But really, a mom outfit is nothing more than a practical, functional outfit that proves its effortlessness as much as its elegance.
Mastering the mom outfit is a state of mind, much like happiness or confidence is a state of mind.
So, mom or not, you can benefit from this post.
What is a Mom Outfit?
When I hear "mom outfit," I think of light wash denim + white sneakers + a solid color tee + a baseball cap. Of course there are many versions of mom outfits, ranging from floor-length dresses to farmer's market jumpsuits, but at the mom-approved outfit's core is one key, possibly controversial, term: Minimalistic.
And for the record, minimalism doesn't = boring. It equals sleek, chic, and best of all, an easy & quick way to get dressed.
For the purpose of simplification, the majority of mom outfits = neutral colors + stylish sneakers + oversized hats. I find it easiest to label different mom outfit looks by the following:
Maybe you aspire to be a stylish mom every day. Maybe you are a blend of casual mom and polished mom. It doesn't matter. What matters is dressing in a way that makes you feel good and look good, so you can lead a productive, exciting, and fulfilling life, one day at a time.
What Brands Can I Trust?
Who are you supposed to trust in an industry that is focused on appearance over anything else?
It's a fair question. Brands, just like designers, can be deceiving. Especially now, when we don't have anywhere to look but online.
I haven't shopped in a long time. The last time I really shopped — I'm talking reinventing my wardrobe type of shopping — was 5 years ago. So I'm definitely due for a wardrobe revamp. Especially because I get rid of almost everything every time we move — and we move a lot.
That said, there are some brands (and places) I trust, based on the quality, wearability, and longevity of items. Here are some of my go-tos:
Why do I want to start a clothing line?
I want to start a clothing line for a lot of reasons. #1 I don't enjoy shopping. It's a chore for me. Having my own line would save me time, money, and, most importantly, mental energy. All things I believe moms consistently run low on. #2 Anyone can start a clothing brand, but not anyone can find a way to make that brand meaningful, purposeful, and unique. Finding that intersection sweet spot is my mission.
What do you want out of a clothier? Is convenience important to you? Affordability? Exclusivity? Please do tell me.
Parting questions
In a world where retailers are closing left and right, where do we turn when things go "back to normal?" Will we all become our own personal stylists? Will fashion blogs make a comeback? Will we race to malls and plazas we haven't been to in nearly a decade?
Will we not care so much about getting dressed after realizing how comfortable loungewear is? Will we dive toward the other end of the spectrum and get super dressy for no reason at all?
Takeaways
My motto for shopping = Buy less, but better.
My motto for life = Have less, but better. This applies to everything. Friends, home furniture, wide-brim hats, nude-colored sandals, and bourbon barrel-aged wine.
Quality over quantity wins every time, with two exceptions: (1) When you're eating double stuff oreos. You have to have at least 4 to feel satisfied. And (2) Books! You can never have enough books!
If I had it my way, I would team up with a personal stylist and tell her what my dream wardrobe would look like in light of my lifestyle. I am a freelance writer + stay-at-home mom. I spend most of my time at coffee shops, libraries, co-working spaces and the occasional restaurant where taking up booth space for more than 2 hours doesn't feel weird. Other than that, I'm home. So comfort and confidence are non-negotiables when it comes to my writer wardrobe.
If anyone knows a personal stylist, send them my way.
Thank you for reading! Happy Wednesday!
Be you.
XOXO,
Ashley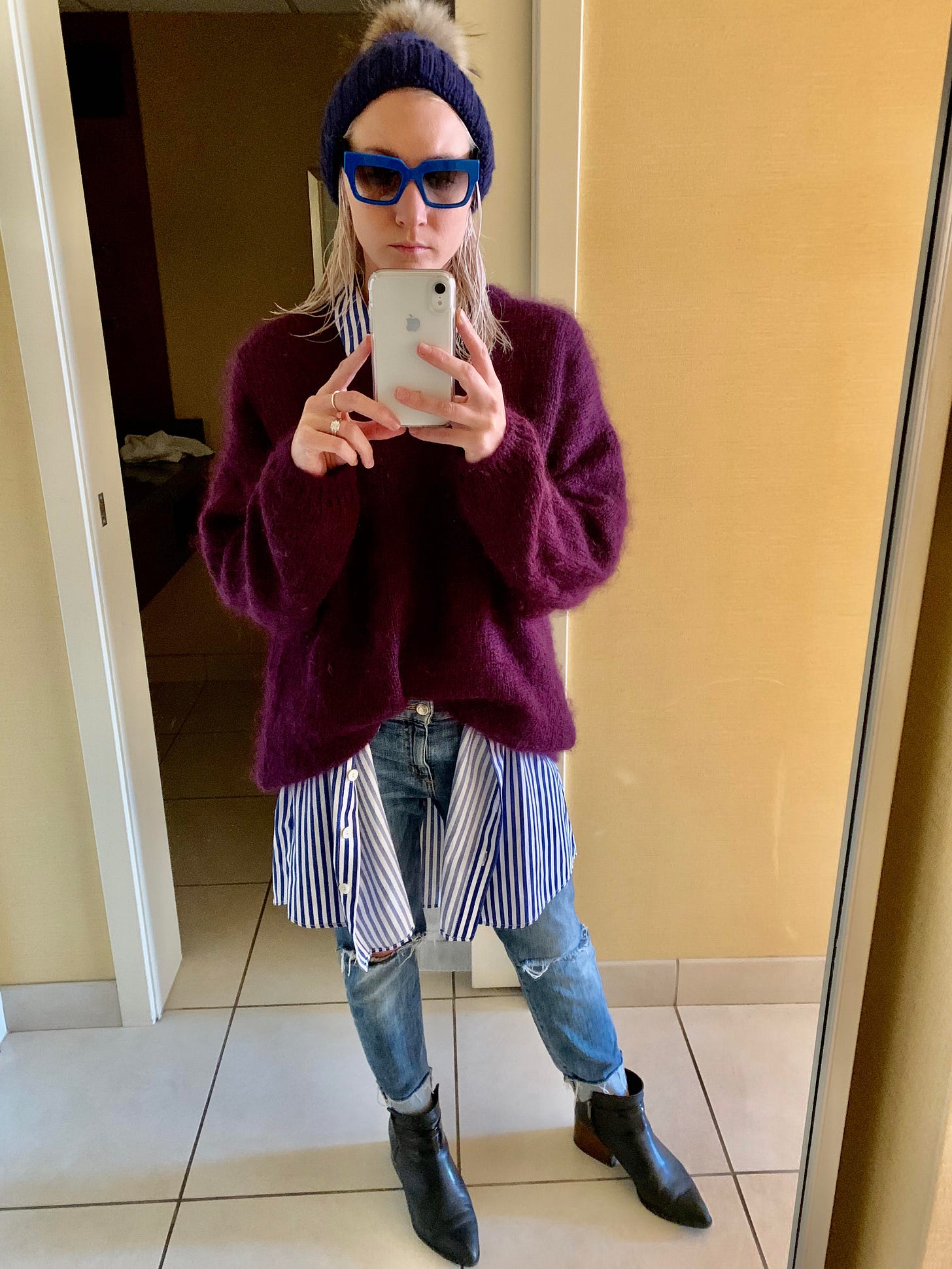 These are the blue Prada sunglasses. I'm wearing 3 shirts here because I couldn't fit this sweater in my backpack, and to my pleasant surprise, it worked out. Aesthetically speaking.