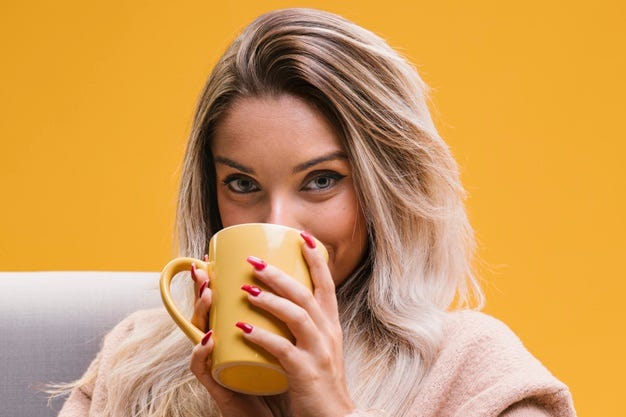 I was talking to one of my girlfriends last night about motherhood. She is a new, fresh out of the hospital mom who has just surpassed the 3-month mark with her babe.
My reply to her "Motherhood is such a range of emotions" comment was, "One day is a dream and the next is a nightmare. It doesn't feel like it's your life at first. It feels like it's someone else's."
And it got me thinking about appreciating the good instead of dwelling on the bad. It took me a long time to see the beauty in motherhood. Now, as Cy gets older, I feel more connected to him both as his mom and as one human to another human.
---
Your Identity as a Modern Mom
The whole premise of my book on modern motherhood is about identity — specifically, how you go from being a woman to a mother quite literally overnight, and how to find ways to deal with that dramatic shift in this new version of yourself that is terrifying yet amazing.
We have to remember that as our kids grow older, we do too. As they become more independent, you begin to see a clearer separation from "mom" to you. That said, leave it to the editors at NYT Parenting (yet again!) to string a few words together that makes readers' mouths drop around the world:
"Your identity as a mom is never fixed. It's always evolving."
This was the aha moment I needed to fully grasp what I'm trying to say in my book. You don't put in the hard work of being a mom (with your job, your friends, and your passions on the back burner), come to an end point where you feel like you're a completely new and revitalized person, then begin the next chapter of your life as that person. Your identity as a mom is never fixed. Your identity as a person is never fixed.
Doesn't that make you feel better about your wavering personality/identity? The limit does not exist!
---
Another Baby? Who, Me?
I'm finally on board with having another child (after two years of Jake trying to persuade me), so time will tell if and when that's in the cards for us. A tarot card reader who "gave me a reading" back in August envisioned me pregnant with a girl in April of this year, which was proved incorrect by not one, but three, negative pregnancy tests. So my faith in psychics has been SHOT.
But I hate the pressure of "trying to have another baby." Maybe it's the phrase I hate. So instead of "trying," we're taking the "it will happen when it happens" approach. And in the interim, Jake thinks it's funny to call me "Myrt" (short for Fertile Myrtle). Which it is funny. I think he thinks he can manifest his way to impregnating me by signaling to the universe that I am, in fact, Myrt.
Spend Mother's Day Your Way
A long, leisurely Mother's Day brunch at a fancy restaurant is out this year. Some moms want to spend the whole day with their family, providing strict instruction to their spouses that they WILL NOT BE DOING THE DISHES TODAY. Some moms want to spend the entire day away from their family, to reflect on their motherly accomplishments alone, preferably with a glass of wine.
My ideal Mother's Day during the pandemic is waking up with the sun shining on my face, making my signature oat milk latte, taking my Peloton class with not one interruption from my child, husband, or dog, packing a picnic and heading to the beach with my son, husband, and dog — where I will drink champagne and take a NICE family photo with publicly acceptable outfits on. Then we will come home, order sushi, I'll take a walk by myself, then watch the movie of my choice with no interruption of snack-making or pretending I'm a mouse. A surprise gift (plus flowers) wouldn't hurt either. Jake, are you reading this?
Since we can't go vacationing with our girlfriends for Mother's Day (this is now my wish for next year), we can do the following:
Have a champagne picnic at a park/beach/your backyard

Order your favorite lunch or dinner (Sushi! Thai! Pasta!)

Watch your favorite movie sans interruptions from your children and other roommates like your husband/wife/partner

Spend the day writing mother's day cards to your favorite people who happen to be moms

Spend the day working on your passion project

Spend the day baking goodies and planting in your garden

Do the thing that you say you never have time to do (or outsource that thing to someone else — Jake? The bathrooms? The bathrooms aren't going to clean themselves)
Happy Mother's Day to all mommies. And to all women in general. Even if you aren't an actual mom, chances are you have mothered before.
Be you.
XOXO,
Ashley
My first Mother's Day when we lived in Chicago. Looks like I had coronavirus quarantine roots back then, too.