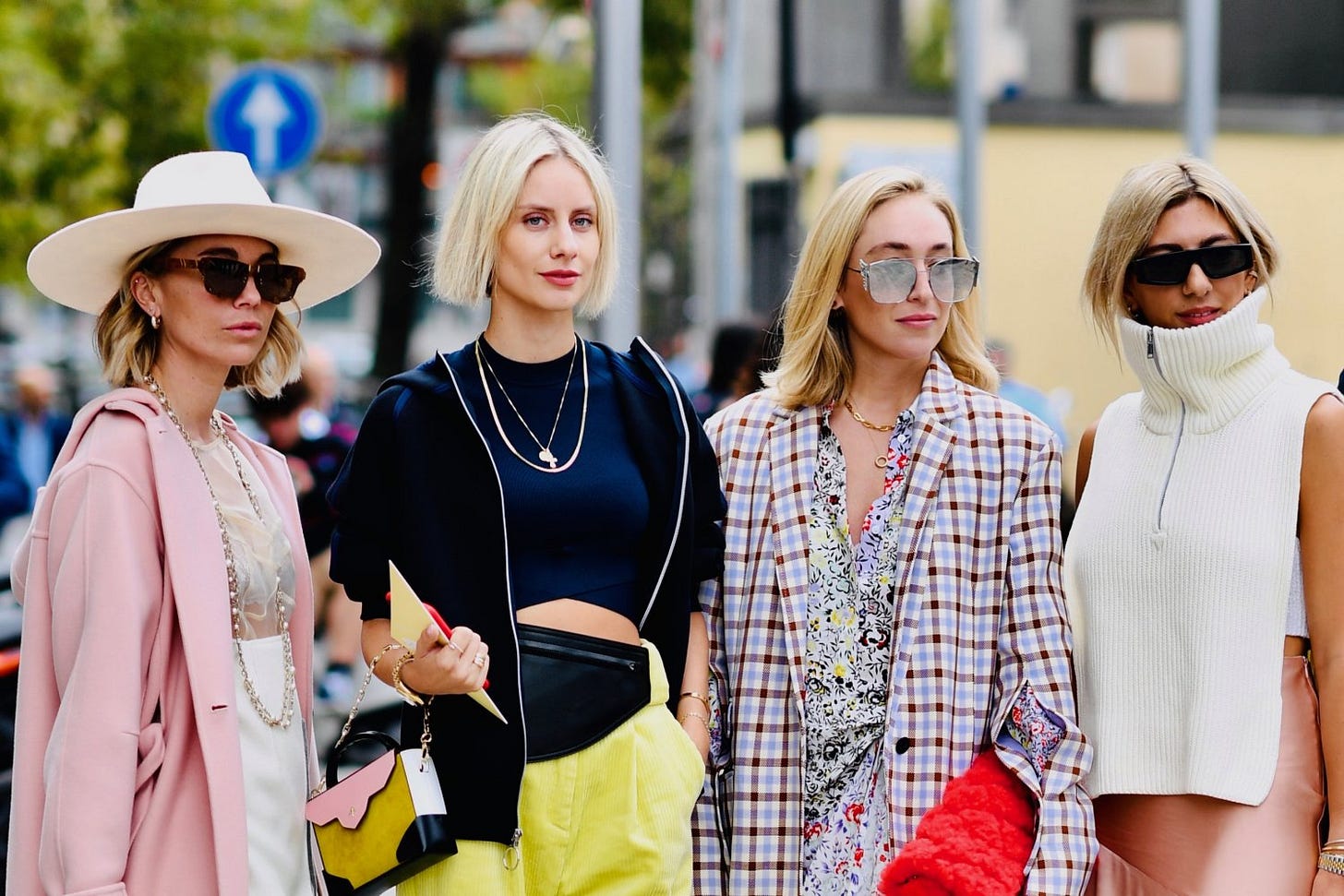 These are the unconventional rules of style made up by myself, whilst heeding inspiration from Pinterest, fashion magazines and people I see on the street.
If you're looking to shake up your style, try these 3 "rules" out for size.
Rule #1 Don't Match
The more you don't match, the better. How do you "not match?" By wearing things that clash in a cool way, mixing prints, and adding something unexpected.
Here are some mismatch examples.
Cool Clashing: This outfit is referred to as "print clashing," which I also approve of. What do I mean by cool clashing? I mean wearing a cobalt blue top with a teal skirt. I mean pairing a graphic blood red tee with an orange-red leather skirt. Different, but not clown-like.
Mixing prints: Tip on this look: Make it less pajama-like by adding pointed heels and a pop of red or pink lipstick. If it still feels too relaxed, add a waist belt. Here is another good take on mixing prints. Note her confidence, not arrogance.
Add something unexpected: While a shirtdress is common, the velvet pink boots are not. You can upgrade any simple outfit with statement-making hats, shoes, earrings or glasses to achieve a style that is pleasantly unexpected.
Rule #2 Say Yes To Monochrome
Black on black, white on white, orange on orange, blue on blue, it's all good. And it's all slimming.
If you want to be sleek, stick with blacks, greys and browns. If you want to be more statement-making, try sets of red, pink, green or purple.
Monochrome works for all seasons and reasons. My current favorite is luxe long sleeve top + shorts sets.
Rule #3 Embrace Bold Minimalism
What is bold minimalism? It's sticking with the basics, but adding a detail or two that is dramatic or interesting. This look is a good representation. While the colors are the epitome of minimalistic (black + white), the oversized blazer + biker shorts + glasses makes this look fashionable and cool instead of boring.
This brand nails the look, because their concept is built on the idea of bold minimalism. I would recommend this style to anyone looking to venture out of their routine way of basic dressing, in a way that feels less risky. Here's another example of crushing a bold minimalism look.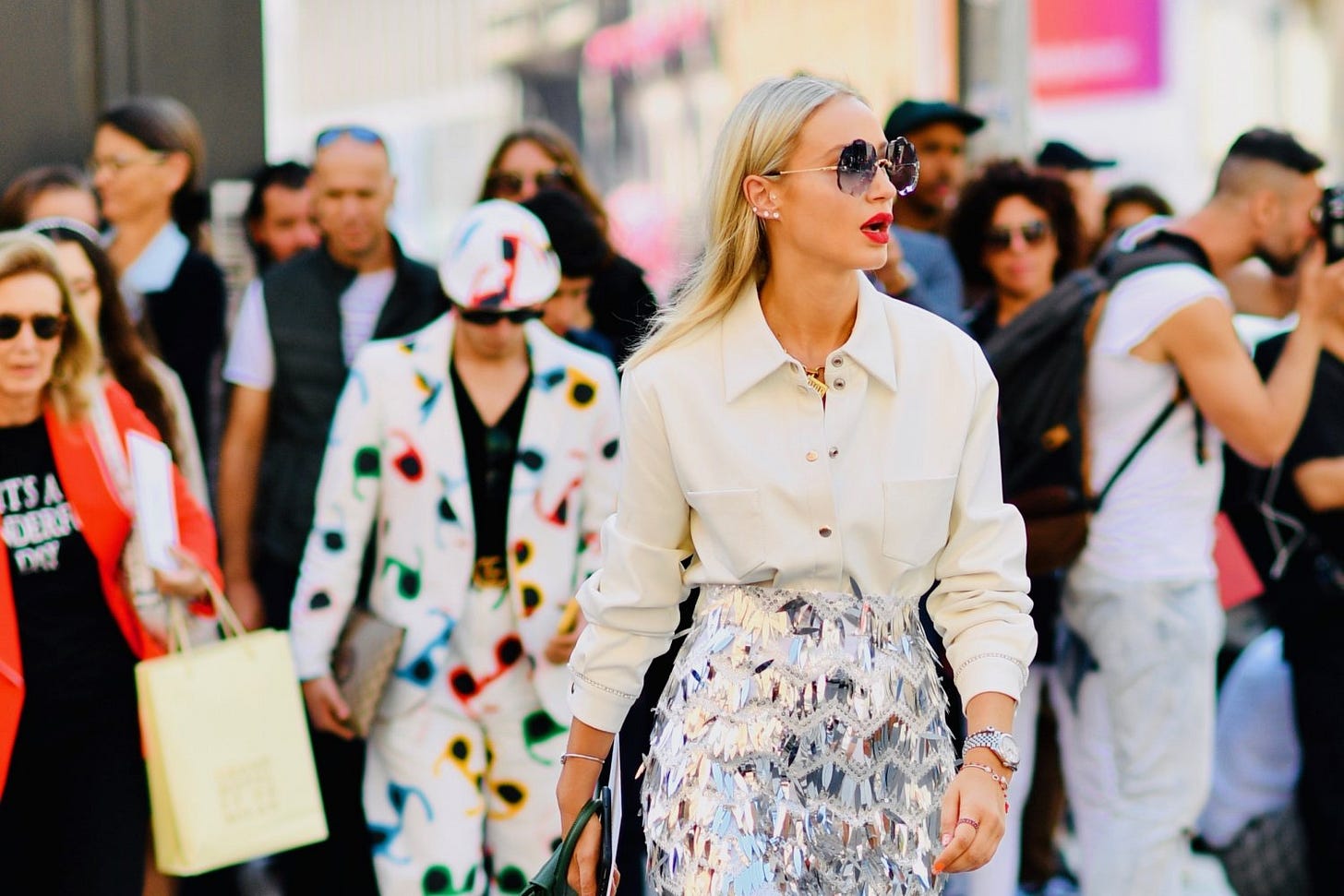 Conclusion
Why do weird outfits work so well? It's all in the wearer. People who dress weird or colorful or bold or mismatched all have one thing in common: They wear it because it feels good to do so. Not because they're vying for attention. In short, they own it.
Looking stylish is mostly derived from within. If you feel cool, you look cool. And if you look cool, you definitely feel cool.
Gone are the days of style equalling bad attitudes, hard faces and an overall sense of entitlement. And here to stay is whatever makes you feel authentic.
Takeaway Tip: Being unpredictable in the realm of style is something I strive for. It makes life more exciting. I wrote a piece on The Power of Signature Style awhile back that backs this up.
Own yourself so you can own your style.
Thanks for reading!
Be you.
XOXO,
Ashley