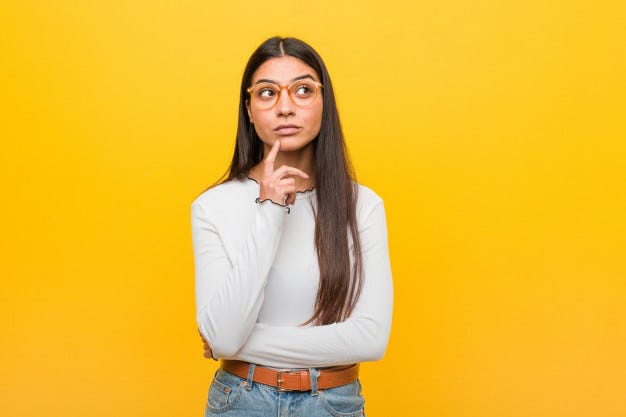 Good morning!
It's going to be a good week, I can feel it already. And because it's the start of a brand new week, let's kick her off with a positive note to keep the feel-good vibes high and mighty.
This week's mantra is:
I deserve a job that I enjoy.
The topic of work — meaningful careers in particular — has been top of mind the past week. From hearing my friends and family members vent about terrible bosses, not feeling valued in their jobs, and all around feelings of complacency with their workweeks, to my own questioning of how I want to lead a professional life, I thought this was a timely and relevant self-mantra to manifest.
And, I don't think it's coincidental that these humdrum feelings are coming about right before Fall. After all, September is more like January than January is like January. What I mean is, a lot of people associate Fall with fresh starts, new beginnings and new life goals — similar to how people set New Years intentions.
So, if you're feeling like a new something is what you need right now, I encourage you to try this self-mantra out for size and see what happens.
You Deserve a Job That You Enjoy, Really
Another important tip on this "I deserve a job that I enjoy" manifestation: WHO you work with could be even more important than what you actually do for work. Personally, I think the whole job recruiting thing is backwards. In order for you to know if you are going to like a certain job or even a certain industry, you have to do your research on the types of people in the companies or roles you have your eye on.
That said, I would rather rake leaves for a living if it meant I was doing it with someone who was making me laugh and making my days fun. On the flip side, it would be really hard for me to swallow "a dream job" (do those exist?) if it meant I was spending 5 days a week with people who were toxic, negative, gossipy, and power hungry.
---
So, whether you are in a position of professional despair or professional bliss, I hope the "I deserve a job that I enjoy" mantra serves you well this week.
Write it on a piece of paper. Tape it to your bathroom mirror. And repeat it to yourself several times a day. You never know what or whom may come into your life by simply believing you deserve greatness.
Manifestation is a real thing. You can will your way to the life you want by reading it, speaking it, and believing it.
Reminders
Good energy breeds more good energy. Try complaining less this week and see how you feel.

Good people are hard to come by. When you do come across them, find a way to keep them in your life.
Unrelated But Related Note
If you're looking for some style inspiration (Fall is approaching, remember), I think my look this season is going to be reminiscent of long-sleeved boho dresses and cowboy hats.
Functional outfitting that is easy to pull off and doesn't require me to wash my hair? I'm for that. To that end, it's very difficult to have a bad day when you're wearing an outfit you love. Something to keep in mind as we switch from shorts to sweaters.
Here are some excellent finds from the gals at WhoWhatWear who rarely disappoint in the style department.
---
Thanks for reading! If you know of someone who may benefit from this mantra post, please do share it with them. The sun is supposed to shine every day this week, so I am going to soak summer up by way of beaching it, outdoor fitness, and farmer's market trailing.
Be you.
XOXO,
Ashley