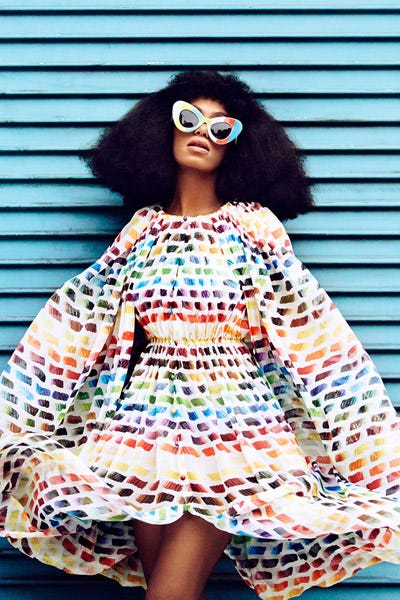 HAPPY FRIDAY.
I feel like the "Summer Friday" feeling is finally here. And I like it.
Today's (short & quippy!) post discusses the importance of color in our lives. Namely, our wardrobes, but I believe color (through art work, personality types and eccentric friends) to be the best thing ever.
In my opinion, we can never have enough color in our lives.
---
When we wake up in a bad mood, and nothing seems to turn it around — not strong coffee, not a good workout, not a compliment from your partner — something that immediately makes me happy is a pop of color.
Be it on my face or my body, wearing hues of red, pink, orange, blue, yellow, green or pink instantly elevates my mood.
And it got me thinking…
While I favor the "less is more" mindset as it pertains to getting dressed, why can't we carry that minimalism logic over with color?
We don't just have one emotion, one feeling, or even one personality. We are multifaceted beings and our wardrobes should reflect that. I believe this can be achieved by way of colorful minimalism.
What do I mean by Colorful Minimalism?
I mean having the same top in five different colors. I mean having the same pair of shoes in three different colors. I mean having the same style of dress in various prints.
Why does this concept work? When you find what you like style wise — as it pertains to comfort, practicality and flattery, the surest way to sustaining that feeling — aka carrying it over from one season to the next — is by having a bountiful collection that works together.
And by bountiful I don't mean "a lot." I mean reasonable, sustainable and workable. Enough to prevent outfitting overwhelm, yet enough to provide you with expressive-to-who-you-are options.
So I ask you!
If frame my clothing brand concept around this idea of Colorful Minimalism or Bold Minimalism, would you be into it? Would you want to replace that stressful feeling of rummaging through your closet each morning — in the dark sea of blacks and greys — with a fresher, more-apt-to-be-lively-instead-of-serious approach by way of color?
I'm picturing a clean, crisp and colorful rack of shirt dresses + sets + tops + pants —built to mix and match with your nudes, whites and blacks. Not replace them.
Questions for you
Do you like wearing color? Is it just a summer thing? Would you view colorful outfitting as a lifestyle?
This is how I see it: Summer isn't just a season. It's a mindset. Therefore, the color yellow (or blue or purple) isn't just a color. It's a mindset. Anything can be a mindset. And anything can be a lifestyle. Your lifestyle.
---
Thanks for reading! Happy Father's Day weekend. Today I'm going to a beer garden followed by a restaurant on the ocean and I can't wait to soak up the sun and laughs with good company. What to wear?! Probably my bright red slip dress.
Live life colorfully. Outfit yourself colorfully and see if you feel a difference in your attitude. Then let me know about it.
Be you.
XOXO,
Ashley