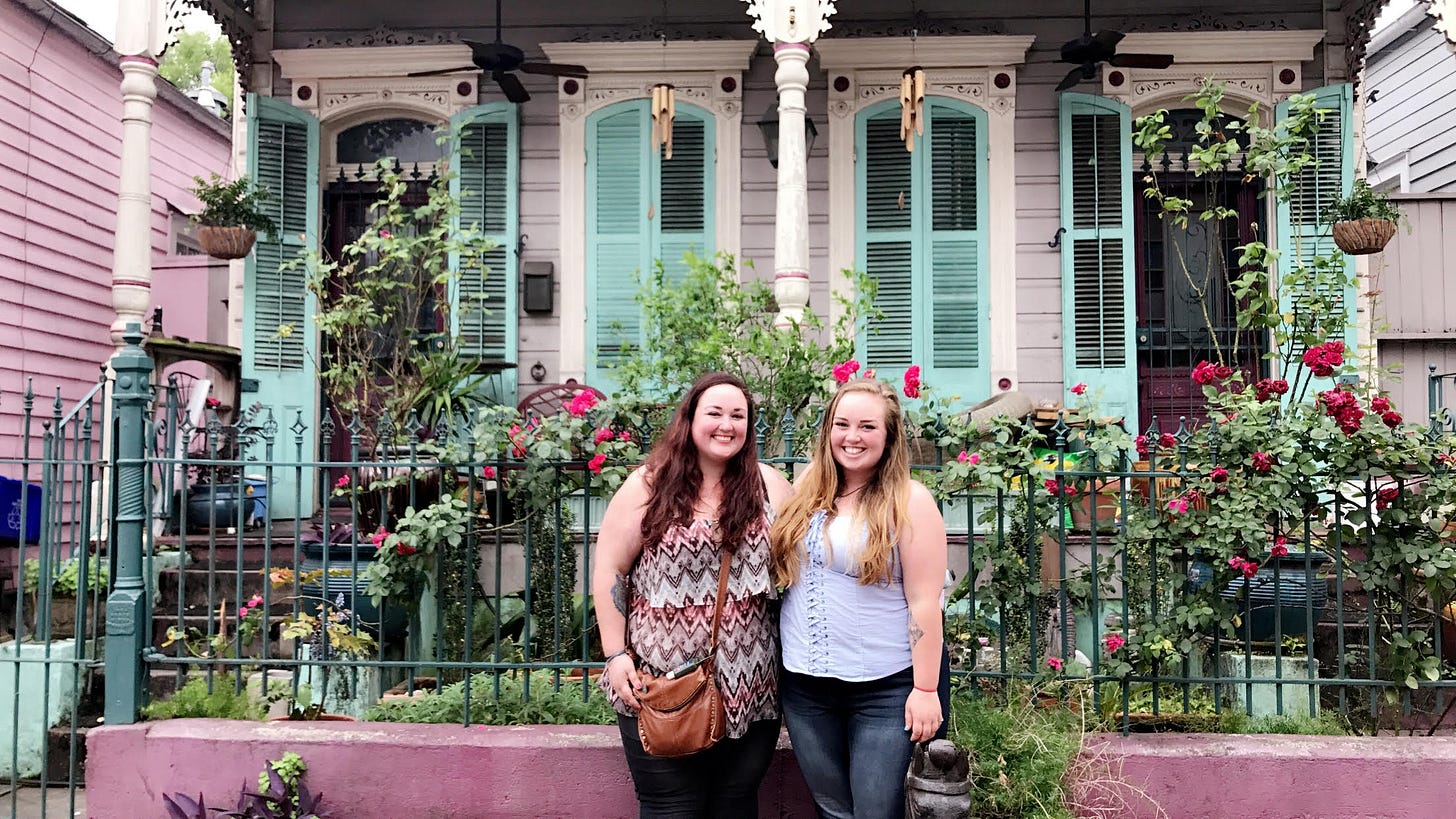 Nat right, Steph left
Natalie Marroquin is 25 years old, and lives in San Diego. I'm jealous of that sentence. Living out your 25-ness in sunny Californ-IA? One day I will live out my California Dream Life. Until then, East Coast living will more than suffice.
Anywho…
I asked Natalie why mental health was important to her, and let me tell you right now: Her story is worth reading. Anyone out there struggling with the loss of a loved one or pressures of diet culture or the general overwhelm of societal judgement can benefit from this post. So please do share it with someone who might need it.
It's raw, it's real, and most importantly — it's healing.
As a mental health and wellness expert/strategist, Natalie knows what the people want in the realm of happy + healthy + purposeful living. She is the ideal example of living her life authentic, free and with purpose.
Here is her story of how she founded a company, why the subject of mental health pricks her, and what advice she has to women wanting to feel mentally well on the daily.
The Heartbreak
"I myself was part of that problematic crew of, 'Only crazy people go to therapy'— It wasn't until my family experienced the loss of my 4-year-old nephew that I admitted to myself that I might need help navigating his loss."
The year before her nephew's passing, Natalie fell into a dark depression.
"I had gained over 70 lbs. I was in pain, grieving, confused, angry, mad at myself for gaining so much weight, embarrassed of how I looked, and experienced panic attacks for the first time in my life."
She began recognizing the self-destructing coping mechanisms she had so heavily relied on, realizing just how damaging the effects were on her mind and body.
"So I called the local psychiatric center and signed myself up for my first appointment. I cried through the whole thing. I told the therapist about what I was going through, and felt seen for the first time in a long time. I felt validated. I felt that she could help me. So I booked another appointment."
How Did Therapy Help You Deal?
"Through my journey with therapy, I learned how to love myself. I was diagnosed with depression, anxiety, and BED (Binge eating disorder), and quickly learned how to put the techniques into practice. My therapist saved my life."
As she continued showing up to her therapy sessions, Natalie started noticing the relationships with herself and others around her were shifting dramatically — the combination of learning valuable tools to rewire her brain + witnessing her self-confidence skyrocket equaled this simple statement that changed her life forever:
"My relationship with food had changed from, 'I need to eat to feel something,' to 'I eat to nourish my body.'"
After she took that first step in scheduling that first appointment back in 2017, the rest of her family followed.
"Together, we worked through our grief, our own personal battles, and struggles. It allowed us to understand each other on a deeper level, communicate in a healthier style, and set boundaries within our family. The mental health/wellness tools our therapists taught us allowed my family to heal from a tragedy that was deep and dark."
Founding Her Company
Natalie and her sister Stephanie had worked together at a nonprofit for over 6 years. The organization was a small, women-only team. Depending on the type of women that are working together day in and day out, situations like that usually swing on one of two extremes — really fun or really toxic.
The latter was the case for the sisters. Because they were/are so proactive of their mental health, they decided to leave. Shortly after, their company, Dynamic Duo Copywrite, was born.
"We create written content for businesses in the mental health + wellness industries. We recognize that mental health + wellness professionals have enough on their plates — that's where we step in! Our past experience with therapy and online education allows us to write for the professional, and also the consumer. Whether clients are in need of email sequencing, SEO, articles, website content, social media marketing, or product descriptions, we do it."
Advice To The Modern-Day Woman
Natalie's advice to you is to dedicate one hour of your day to no one but yourself.
"Spend that hour doing something you love or that brings you happiness. Whether it be a nap, journaling, a bath…whatever allows you to feel more rested, grounded and relaxed."
As women, we have the tendency to forget about our basic needs for feeling good and operating properly, which Natalie says is "a draining habit." We all know making time for ourselves is crucial. But it's the WHY of it all — cultivating a long-lasting, positive outlook on life to make the bad worth the good.
"Be a part of the rebellion, and take that hour."
If you're wondering what she does to begin her day ready and rested, here it is:
"I spend the first hour of my day moving my body through yoga practice. It makes me feel strong, powerful, playful, and beautiful when I move with my body."
What Do You Hope To See After The Pandemic, Mental Health Wise?
"I am hoping to see more opportunities for therapy and wellness programs in ALL communities. It needs to be readily available and low cost."
Given the fact that the pandemic has seriously tested all of our coping skills, Natalie shares an article with links and apps to give people access to free and low-cost mental health tools. Here it is: Free & Discounted Tools to Help Better Your Mental Health
"Access to free therapy is the goal for all."
Conclusion
We all have stories inside of us that are begging to be told. We all experience tragedy, loss, and triumph, and sharing those experiences are what makes our connections to each other so meaningful.
I hope this story gave you a clear picture of why taking care of your mental wellbeing is non-negotiable.
All she did was ask for help. It's a snowball effect.
If you want to keep up with her + her business, here is her website.
---
Thank you for reading today! And Happy Halloweeny weekend. I am wearing a lime green skintight onesie, going as a European Mantis. Why? I'm weird like that.
PS! Take A Sip's first monthly Q + A launches on Sunday (for paid subscribers only) Any last-minute questions on motherhood, relationships, happiness, etc. can be emailed straight to MEH.
ashley.lauren.alt@gmail.com
---
Be you.
XOXO,
Ashley