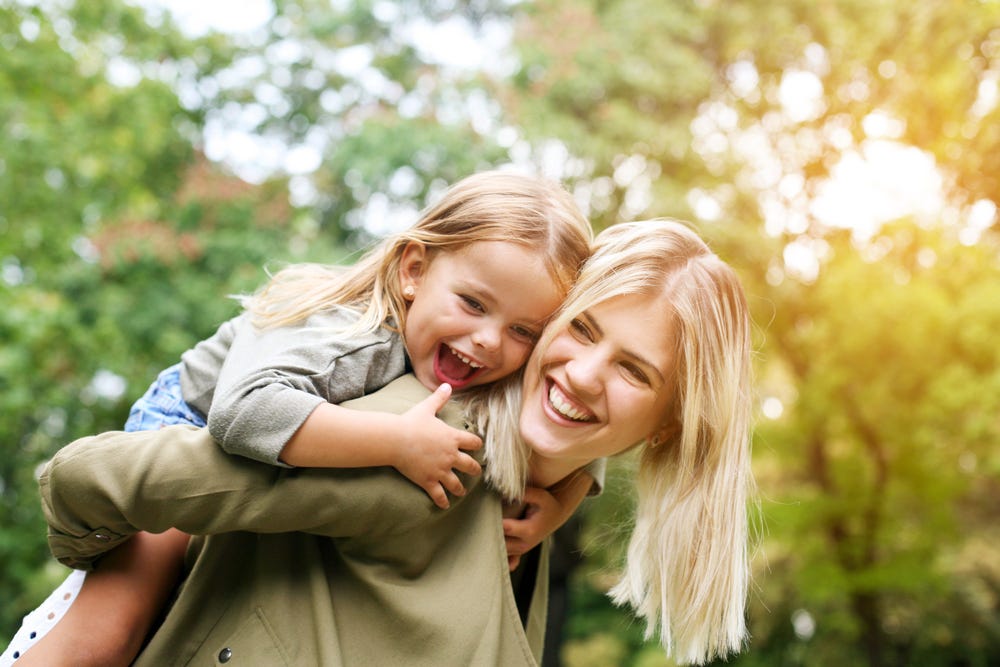 By now, the days are getting a bit easier to manage because we have a better understanding of what to expect. Less chaos and panic and more this-is-how-it-is-for-now, so to speak.
Kids thrive on routine, but so do adults, no matter how loose or strict the guidelines. Whether you've got nap time down to a science or are just starting to follow the homeschool projects sent by your child's teachers, I think in general, we're all getting into the groove of isolation instead of fighting it. We don't exactly have a choice.
---
That said, I like to preface these kinds of posts with the understanding that moving your body (working out) and feeding your body (with nourishing foods) is a given/habit to practice every single day in order to feel fabulous and think clearly.
Here are 8 habits to make you a happier mom. Today, next week, and beyond quarantine.
Have a schedule: Gone are the days of waking up rushed and frantic. Isn't it refreshing to have time to drink your coffee in peace? I've been breaking up the day in 3 intervals (morning, noon, night) in order to have a sense of routine/schedule: The mornings are when I get my work done, the afternoons are for learning and playing with Cy, and the evenings are for reading, cooking and FaceTiming with friends or family.

Make time for yourself: I am SERIOUS when I tell my child and husband that I need 20 minutes (or an hour) 100 percent uninterrupted. Whether I want to get a quick workout in, finish writing an article or listen to a podcast, I do this every day. Because it is necessary. With the arrival of my Peloton bike yesterday (hallelujah!), I will now use my "me time" for 45 glorious minutes spent with my cycle instructor. We have to remember that taking part of ourselves is part of taking care of our kids.

Reach out to your friends: Via text, Instagram DM, FaceTime, Zoom, or what have you, your friends are your saving grace in the throes of motherhood. Mom friends, lifelong friends or wine night friends, reach out to these women often. They need you just as much as you need them.

Have a hobby: I'm currently in the very early stages of starting a clothing brand. I have a deal with Jake that I can't put any money into this venture until I reach 5,000 newsletter subscribers. So, if you want free items of fun and fabulous clothing once I launch, please help me spread the word on this newsletter so we can go shopping! Don't ever stop doing what makes you excited about life. It physically hurts me when I hear moms say they don't remember what makes them happy because they lost themselves in motherhood. PS that is precisely the messaging of my future clothing line — embracing your you-ness by wearing clothes that make modern moms happy. Speaking of shopping, here are the 3 fashion items celeb stylists always buy on Amazon.

Be grateful: I don't like when people tell me this. Let alone online articles. But looking at your life as a blessing (having healthy, happy kids) really helps in the moments where you want to ship them off to summer camp because they've been making firetruck siren noises in your ear for the last 3 hours.

Have fun with your kids: Do you ever notice your kids won't stop bugging you when they see you on your phone? It's because they want your undivided attention. Give it to them. Kids have an endearing sense of wonder and curiosity that I believe we, as parents, can learn a lot from. Do something they want to do, even if it makes you cringe, like pretending you're pirates or playing hide and seek. It helps me when I set a limit on these pretend adventures (the limit does exist!) — it calms me to know there's an end in sight.

Expect the mess: I am just now — after 4 years — getting around to accepting this. I do not like mess. I do not like crumbs on the floor, I do not like clutter, I do not like coloring books stacked on top of one another with the pages spilling out. Instead of freaking out when I see Cy's toys all over his room or acting like water spilled on the floor is something to get upset about, I am trying something new. I go into the day expecting messes, knowing we can clean them up after the fact. So far it's working out well.

Don't compare yourself to other moms: This one is so important. I read somewhere yesterday that we aren't struggling — we're mothering. We're all struggling moms in a way. The moment our babies became babies, we became mothers. People forget that. We're learning to be moms, while our kids are learning to be humans. Focusing on your strengths as a parent instead of your shortcomings (do those even exist?) is an extremely helpful concept that gives you confidence in your parenting abilities. And moreover, in yourself.
Happy Tuesday, everyone.
Be you.
XOXO,
Ashley