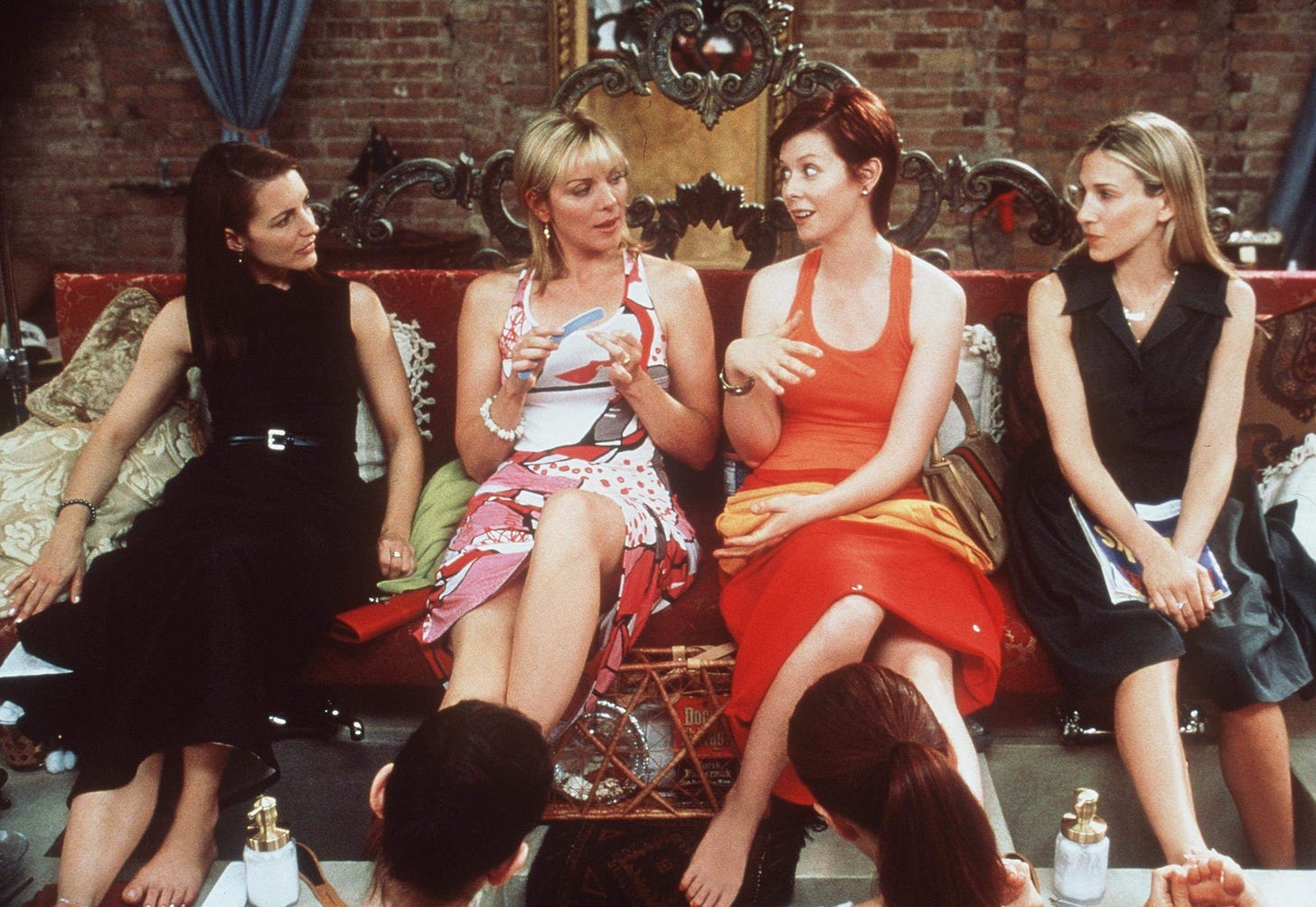 Carrie Bradshaw wisely once said:
"Enjoy yourself. That's what your 20's are for. Your 30's are to learn the lessons, and your 40's are to pay for the drinks."
At the ripe age of 30 (and getting dangerously close to 31), I've learned a thing or two about life in the realm of happiness. And I'd like to share that wisdom with you today.
Here are 4 life lessons I've learned in the pursuit of life satisfaction thus far. If you guys like these life lesson posts, I will keep em comin'.
Lesson # 1 If someone reaches out to you, reach back.
Our early 30's are a time of evaluating what's working and what isn't as it pertains to, well, everything. But what I'm talking about here is allowing people in.
If a friend you've lost touch with suddenly starts messaging you, don't view it as weird or out of the blue. Just accept it. Choose to see the good in people and reciprocate their welcomeness.
If someone reaches out to you, reach back. And don't think you're above reaching out to (or responding to) anyone — a long lost friend, a potential mentor, an old boss, a random person on LinkedIn, anyone. Because you aren't.
Related note: It's impossible to have a close friendship with someone if you don't invest in them.
Lesson #2 Happiness isn't owed to you.
I've been reading a lot about the art of happiness — what it is, what it isn't, and how our perception of it is easily skewed.
This is how I view it: Happiness isn't something that should be handed to you just because you're alive or pretty or popular or professionally successful or whatever. Happiness is kind of like money. You have to earn it.
I earn happiness by doing things that make me feel happy — like working out every day, eating healthy, dressing in a way that makes me feel fun and approachable, following my intuition on where I see my career going, and prioritizing people who make me feel fabulous.
Here is the game: It's impossible to be happy all the time. And, it's very difficult to be happy in one area of your life (like your marriage) if you aren't happy in the area that coincides with it (like your job).
Happiness isn't owed to you.
Lesson #3 Having something to look forward to (or not) will make or break your day.
Having something to look forward to every single day is necessary for me to function and feel satisfied with my life. It can be as small as a really good cup of coffee in the morning to something as big as a fancy date night planned.
The point is, if you're waking up dreading going to work or dealing with a family conflict, you will be in a negative headspace unless you have something to counteract it.
Examples:
A pleasant hike after work

A delicious smoothie midday

A vibrant skirt

A 15-minute phone call with a friend

A happy hour with a coworker
Important! Have something to look forward to every single day. And don't skip it because you're running low on time or energy. These quick feel-good moments are essential to good mental health.
Lesson #4 Putting yourself first is smart, not selfish.
You are not a selfish person for putting yourself first. You're just a happier one.
This one applies especially to mothers. Taking care of yourself is part of taking care of your kids. Children don't want perfect parents — they want happy parents.
Women are more prone to burnout as it pertains to taking care of everyone around you but you. This satisfies no one in the end. Once you feel put together (on the inside and on the outside), only then can you take on your other responsibilities of mothering, working, and everything in between.
Put yourself first. And don't feel guilty about it.
Conclusion
If someone reaches out to you, reach back.

Happiness isn't owed to you. You have to earn it.

Have something to look forward to daily.

Put yourself first, always.
The "Feel Deal Heal" mantra is a good one to live by. It's pretty self-explanatory, but it is Monday so I will break it down. Feel your feelings. Deal with the issue causing your feelings of anger, sadness, loneliness, etc., then give yourself time to Heal from the change/result. Feel. Deal. Heal.
Thank you for reading! Happy Monday. It's hot as hades this week so I will do some research on cool-temp clothing to wear and report back.
Be you.
XOXO,
Ashley